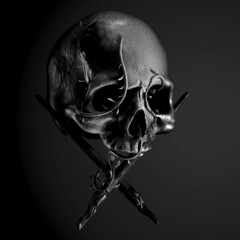 Jamie Wilson
Award winning Tattoo artist, digital art, 3d character art
Loughborough, United Kingdom
Summary
Multi award winning UK tattoo artist, digital painter, artworks published internationally in various mediums.
I'm well versed in Zbrush, Blender, 3d Coat, RizomUV, Marmoset toolbag and Substance Painter and constantly learning new softwares and workflows.
I do character/Creature concepts, full game ready characters and props. Also VR social avatars by commission.
i have over 10 years experience running my art and tattoo studio and managing a team of artists through multiple international projects in a highly competitive industry, 18 months aerospace CAD experience and 12 years professional 2d concept and digital art experience.
id love to work with more 3d artists and teams in future to further my knowledge and experience.
Im available for contract work and commissions currently.
Skills
Creature Modeling
Photo-manipulation
Book Cover Illustration
Compositing
Digital Sculpting
High-poly Modeling
PBR Texturing
Portraiture
Prop Modeling
Retopology
Rendering
Rigging
Texture Baking
Texturing
UV Mapping
Weapon Modeling
Sketching
tattoos
Concept Art
Digital Painting
Creature Design
Traditional Art
Software proficiency
Experience
CEO/senior Artist at Sunken Hollow Limited

Loughborough, United Kingdom

Im the owner and senior lead on all aspects of running the studio. Alongside my tattoo artist duties which include handling hundreds of clients and their projects per month im also in charge of the art direction for marketing, promotion and social media. Ive worked with artists from around the world in collaboration amd fostered great working relationships with the biggest brands in my industry. Over the last few years ive earned a reputation for realism and dark art in tattooing and im now focusing on building that skillset and reptutation in 3d